SE Ranking Get SEO Report Free without any debit or credit card
Sanjay dutt father name is Sunil Dutt. Sunil dutt is popular actor and Sanjay dutt mother name is Nargis, she is also a popular actress. Sanjay Dutt born on 29 July 1959. Sanjay dutt full name was Sanjay Balraj Dutt. He was educated at The Lawrence School, in Sanawar. Sanjay dutt has two sisters. Name is Namrata Dutt and Priya Dutt.
Sanjay dutt made his acting debut in 1981 with movie Rocky. This film was directed by his father and was a launch vehicle for the star kid Sanjay dutt and then he appeared in more than 187 Hindi films. Sanjay dutt got great success as a lead actor in genres ranging from comedy to romance. At the premiere of first movie of Sanjay dutt Nargis really wanted to attend the Premiere but unfortunately Nargis passed away just days before the Premiere in 1981. This was a huge sad moment for Sanjay Dutt.
Sanjay dutt said that mother's death was triggered his drug addiction. In a film career which was more than 37 years. Dutt has won two Filmfare Awards, two IIFA Awards, three screen awards, Global Indian film award, two Bollywood movie awards, and Bengal Film journalist's award. And other than this four of his films have won various National film awards.
Sanjay dutt featured in a number of films after move Rocky. Like that Vidhaata in 1982, Zameen Asmaan in 1984.
By this time, Sanjay dutt had gotten notoriously infamous for his brat behaviors. He was known as the bad boy of Bollywood.
Sanjay dutt married to actress Richa Sharma in 1987 but she died of a brain tumor in 1996. The couple have a daughter, Trishala she was born in 1988, now she lives in the United States with her maternal grandparents.
Sanjay Dutt was subsequently caught and he was jailed for his involvement in the bombings. In 1996. He was arrested under Terrorist and Disruptive Activities (Prevention) Act or TADA as weapons like AK-47 had been found in his possession.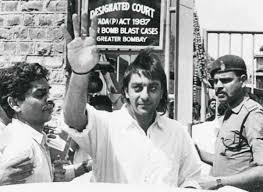 Sanjay dutt was a married man, but there were rumours floating around that Sanjay dutt had an extra-marital relationship with actress madhuri dixit at that time. They have worked together for number of movies.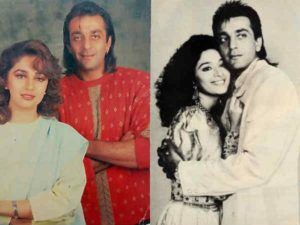 On 1997 sanjay dutt made a comeback to the movies daud with Ram Gopal Verma's, but daud was not a success at the time. But sajay dutt followed it up with hits like move on 1999 kartoos, 1999 haseena maan jaayegi, 1999 khoobsurat and 1999 Vaastav the reality. This movie is as one of sanjay's best performances with the help of this movie sanjay won him first Filmfare awards.
Sanjay dutt second wife was to model Rhea Pillai in 1998, but they divorce in 2008.
On 2005 Sanjay dutt as his long-standing pillar of support – his father and veteran actor Sunil Dutt passed away.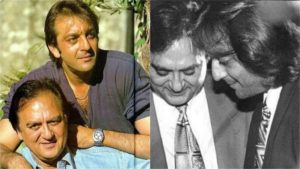 After 2 years of dating sanjay dutt married to Manyata in 2008 in a private ceremony in Goa, on 21 October 2010, Sanjay Dutt became a father to twins, a boy and a girl.
Sanjay dutt films Munna Bhai M.B.B.S. on 2003 changed the way he was seen by the world. After this movie sanjay was seen in hits like Parineeta on 2005 and Zinda on 2006. On 2006 one more film Lage Raho Munna Bhai made him the audience's love one more time.
In January 2008, the Indian film Institute Filmfare listed 12 films featuring Dutt in its top 100 highest-grossing movies of all-time list.
Dutt appeared as the lead in Bhoomi. He has started shooting for his next film Saheb, Biwi Aur Gangster 3 in which he is playing the role of the antagonist. On June 29 2018, his biopic Sanju released in which he made a special appearance.