Sridevi an icon of the Indian film industry. sridevi name was Shree Amma Yanger Ayyapan. she was born on 13 August 1963. she was an indian actress and film producer. she started her career as a child artist and performed one of the most powerful performers. she starred in Tamil, Telugu, Hindi, Malayalam, and kannada films. She is a indian cinema's biggest femal superstar.
Sridevi made her debut as child artists with the 1967 which was Tamil film Kandan Karunai,that time she was at the age of 4.
sridevi started her acting career in lead role as a child with M.A. Thirumugam's
1969 devotional Tamil film Thunaivan
and continued to act as a child artist in Tamil, Telugu, Malayalam and Kannada films.
she was the recipient of two filmfare awards and three filmfare awards south.
on 1980 sridevi was ranked among the highest- paid actors
on 1990 she is considered to be most popular actresses of Indian Cinema.
After some time she come in hindi film. she debut as a child artist on 1972 and that movie name was Rani mera naam. on this movie she played her first adult role at the age of 13. firstly sridevi established herself as one of the leading actresses of Tamil and Telugu cinema. she played many lead role on her movie. sridevi gained attention with the film Himmatwala which was released on 1983. she have done work on many Indian films.
sridevi got Padma shri award on 2013 by the government of india. it is the country's fourth highest civilian award for sridevi contributions to the entertainment industry. she got honourary awards by the state governments of Tamil Nadu, Andhra Pradesh and Kerala.
she was married to the film producer Boney Kapoor.

Some points about sridevi you have to read it
1- sridevi was born on 13 August 1963.
2- Sridevi name was Shree Amma Yanger Ayyapan.
3- her father was a lawyer and her mother tongue is Telugu.
4- Shridevi started her career at the age of four in Thirumugham on 1967.
5- Sridevi lost her father during her movie Lamhe shooting on 1991 in London.
6-Sridevi has worked in Hindi, Tamil,
Malayalam
Telugu, and Kannada films.
7- Sridevi made her hindi film debut in solva sawan on 1979 as a lead actress.
8-While shooting of Chalbaaz's famous song Na jaane kaha se aayi hai, Sridevi was down with 103 degrees fever.
9-Sridevi has won 5 filmfare Awards for Best Actress In a leading role.
10- when Sridevi made her debut in bollywood cinema, then she was not able to talk in hindi. then her voice was mostly dubbed by Naaz.
11-Sridevi gives her voice fisrt time in Chandni movie.
12- Sridevi played Rajnikanth's step mom in a Tamil Movie Moondru Mudichu when she was 13 year old.
13- Sridevi and Anil were a popular jodi in the Hindi movies through the 1980s and 1990s.
14-They have done 13 films together.
15- Sridevi movie with Jeetendra were a huge crowd movie as well. they did 16 films together.
Sridevi affairs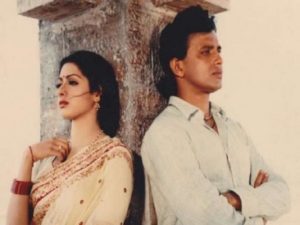 1-According to some reports Sridevi and Mithun Chakraborty got married secretly. their marriage did not work well ant then they got separated.
2- Mithun Accepted his marriage with Sridevi.
3- Sri Devi step mom of Arjun Kapoor. sri devi became 2nd wife of Boney Kapoor.
4-Sri devi had done marriage with Boney Kapoor when she was 7 months pregnant.
5-Sri Devi daughters name is Jhanvi and Khushi kapoor.

Last Few words
Sridevi passed away on Saturday on 24 february 2018 at the age of 54 because of cardiac arrest.
she have massive fan following across the globe.
we will miss you mamm
For other bollywood gossip. keep watch my blog . I will provide you most interesting news from bollywood
Thank you
My blog is :- sarichze.blogspot.com